Christians beware: the days of Jesus appearing on a tortilla or a urine stain out back of Burger King are giving way to a new breed of religious incarnation.
A fisherman in the small village of Vanga in Kenya last week came home with more than his typical piscine haul. Said Ali, the lucky Muslim to directly receive the words of Allah, discovered that one of his tuna fish had Arabic writing on its side. Further inspection revealed that it wasn't just
any
Arabic, this fish was carrying around a passage from the Qur'an which translated says, "You are the best provider." Read for yourself (remember, right to left!):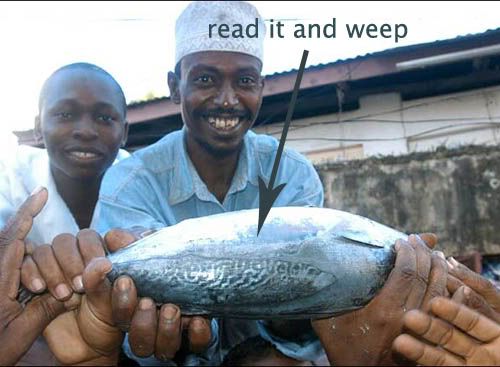 Now if you only had an infinite number of tuna, an infinite number of monkeys with digital cameras to photograph them, and one damn good color printer, you're guaranteed the entire text of the Qur'an. Who needs Mohammed?